Just got my hands on these two scores from my friend who bought from Japan. XD
Rules

1) I bought the score book and scanned them so
please don't claim as your own
.
2) Feel free to post in other places that could be interested in this but
don't copy the links over instead link them back here please and do not re-upload them and post in other places
. This post will be made public so this is just a very simple rule.
3) Any other things that shouldn't be done please don't do them.
Share the joy! =)

Previews: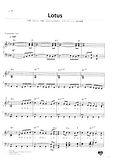 http://www.mediafire.com/?4710d56zja4qjjt
PW: hatenailotus